Abu Dhabi Medical Devices Company (MEDECO)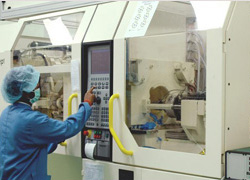 MEDECO is a joint venture between ADNIP and Pharmaplan International, GmbH. It is the leading regional manufacturer of single-use syringes and infusion sets, and a pioneer in the production of Auto Disable Syringes. It exports over 90% of its products to over 40 countries in Africa, the Middle East, and the Far East.
The company was awarded 'Approved Supplier' status by UNICEF, the first company in the Middle East to be approved by a manufacturer by WHO. It is also an ISO 9001:2000 and GMP certified company, and a member of the International Association for Safe Injection Technology (IASIT), Switzerland.
www.medeco-uae.com
will give additional information as required.